"Dr. Hairston is great! He has been my eye doctor for about 9 years. When I started to struggle with declining near vision, I thought I would be forced to give up my contact lenses. He explained the problem, and recommended new bifocal contact lenses. Now I can see for driving, computer and phone...No more problem!"
— Lauren H.
"I have seen Dr. Hairston for a number of years. I highly recommend his services to family and friends. Additionally, I find his staff to be excellent...I feel like I'm in very good hands!"
— Dr. Tony G., Ph.D
"The new office is modern, new equipment with a calming environment. Dr. Hairston, is not only a great eye doctor...he has a matching personality! The best appointment I have had with any doctor! Plenty of free parking too!!"
— Janet N.
"To be able to see well again for work, tennis and seeing distance with greater ease...This is the gift that the talented Dr. Hairston was able to give back to me. I wear contact lenses full-time now, even though I was told by other doctors that I was not a good candidate...His office staff (esp., Kristine) are friendly and very helpful too. I look forward to seeing them for as long as my eye need care!"
— Dr. Helen K.
"My mother, two sister and I made appointments for the same day, and it was fantastic! Dr. Hairston and his staff were extremely welcoming, professional, and made us feel right at home. The new location is great! I would recommend his practice/services without hesitation."
— Kim D.
"My 15 year old daughter and I see Dr. Hairston for our eye exams and contact lenses. We are extremely happy with the professionalism and welcoming attitude of the all staff...We would highly recommend Metro Eye Docs.!"
— G.T.
"Prompt, professional service is what I received from Dr. Hairston and his staff. His office has a vast selection of awesome eyewear. Dr. Hairston's eye exam is hands-down the best, and he caters to your needs and listens to your concerns.

I am thrilled about taking the leap, and trying bifocal contact lenses...no more looking around for glasses! However, I did see a cute pair of Prada eyeglasses at a great price! So, now I have options depending on my day. I highly recommend making an appointment and seeing for yourself!"
— Pamela A.
"The most relaxing doctor's office on the planet!"
— Robert J.
---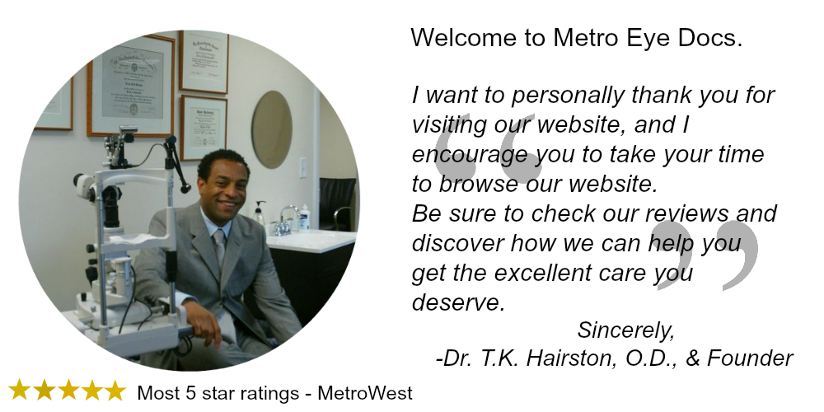 ---
"Thanks Dr. Hairston...Your dry eye treatment finally gave me the relief I needed!"
— Jean I.
"What a beautiful new office...I admire the thought and effort Dr. Hairston has put into making his patients feel comfortable. The office if very welcoming and the service is exceptional."
— Dionice E.
"I was referred to Dr. Hairston for an eye exam and contact lenses. Dr. Hairston, prescribed new bifocal contact lenses for me and after a short adjustment time, I was seeing fine. Finally, clear, comfortable vision...Thanks Dr. H, now I'm hooked!"
— Toni R.
"I recently brought my 14 year old daughter to see Dr. Hairston for Vision Reshaping. As an RN, I am extremely particular with practioners. From the moment I met Dr. Hairston, I immediately knew my daughter was in good hands. I was impressed with his skill, knowledge and approach...My daughter felt comfortable with him immediately as well. We are all highly impressed with her results and would recommend his services!"
— L.M.G.
"My mother, two sisters, and I made appointments for the same day and it was fantastic! Dr. Hairston and his staff were extremely welcoming and professional and made us feel right at home! The new location is very convenient too! I would recommend his practice/services without hesitation!"
— The Dorans
"Dr Hairston has been my eye doctor for several years. I have been wearing reading glasses for almost 20 years. Dr Hairston introduced me to contact lens last year that I could wear to read and which would not distort my very good distance vision. This has made such a difference in my personal and professional life! I can work at my computer, see patients and read a menu without taking readers on and off. It is also so helpful using my cell phone. The contacts have been very easy to master inserting and removing. Using my glasses has become a burden to me now. I am very happy with my contacts!"
— Barbara M., Westborough, MA